Posted by
michaelvox
in
1949
,
Cinebanter
,
Criterion
,
DVD
,
Netflix
,
Solo Filmschool
1949
June 24, 2008
Netflix Criterion DVD
UK
English / German / Russian
104 Minutes
Film-Noir / Mystery / Thriller
Carol Reed [Oliver!]
#24 They Shoot Pictures Don't They Top 1000 Films Of All Time
"Solo Filmschool" movies are those on the big list of the 1000 best films of all time, which the crew over at TSPDT keeps track of and updates from time to time. The version of the list I used is from January 2010. My plan is to work my way down the list, watching all of them on DVD (if available), regardless of how slow-moving, or out of date they might appear at first. If a highly-regarded and serious film class is not available where you live, you could do a lot worse than using this list as a jumping off point.
~~
~~
THE THIRD MAN is the subject of Cinebanter Podcast Number 54. After you've seen the movie, listen to the spoiler-filled review by Tassoula and I by clicking the play button right here:

Audio clip: Adobe Flash Player (version 9 or above) is required to play this audio clip. Download the latest version here. You also need to have JavaScript enabled in your browser.
Show Description:
• 00:00 Intro
• 00:32 THE THIRD MAN Discussion
• Break
• 16:23 To Sum It Up
• Break
• 16:47 The Last Five®
• Break
• 25:36 Average Matt
• Break
• 32:10 Tassoula's 5 Favorites from SIFF
• Break
• 49:29 Show Notes
• 51:56 Credits and Outtake
~~
~~
An American pulp fiction writer goes to Vienna to meet an old friend and finds that he has disappeared in sinister circumstances.
An unintelligent but tenacious writer of Westerns arrives in post-war Vienna to join his old friend Harry Lime, who seems to have met with an accident…or has he?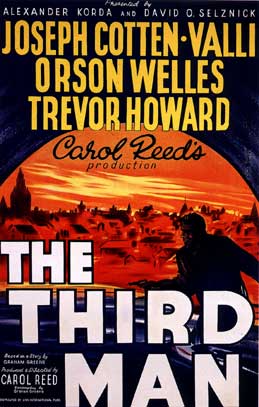 Oscar Winner: Cinematography Robert Krasker
Oscar Nominee: Director Carol Reed, Editor Oswald Hafenrichter
#18 All Time Halliwell's
#49 All Time IMDB
**** Halliwell's
**** Ebert
**** Maltin
8.5 IMDB
THE THIRD MAN
Tags:
8.5
,
Carol Reed
,
Film-Noir
,
Joseph Cotten
,
Mystery
,
Orson Welles
,
Oscars
,
Thriller
,
Top 1000
,
Trevor Howard
No Comments »