Posted by
michaelvox
in
2008
,
Cinebanter
,
Theater
2008
August 7, 2008
San Jose CA — Camera 12
USA
English / Cantonese
111 Minutes — August 6, 2008
Comedy / Crime / Thriller
David Gordon Green [George Washington; All The Real Girls; Snow Angels]
~~
~~
PINEAPPLE EXPRESS is the subject of Cinebanter Podcast Number 57. After you've seen the movie, listen to the spoiler-filled review by Tassoula and I by clicking the play button right here:
Audio clip: Adobe Flash Player (version 9 or above) is required to play this audio clip. Download the latest version here. You also need to have JavaScript enabled in your browser.
Show Description:
• 00:00 Intro
• 00:30 THE LAST MISTRESS Discussion
• Break
• 14:35 To Sum It Up
• Break
• 15:20 PINEAPPLE EXPRESS Discussion
• Break
• 34:35 To Sum It Up
• Break
• 35:15 The Last Five®
• Break
• 1:01:10 Show Notes/Credits and Outtakes
~~
~~
Put This In Your Pipe And Smoke It.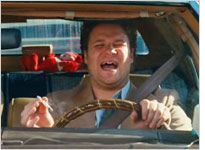 Absolutely hilarious. The pop culture non-sequitors that the great James Franco throws out, almost like he's whispering, are spot-on. The Seth Rogen character gets a bit tiring, and the ending with the seemingly endless shootout belongs in another movie, but whenever the two bro's are together, everything clicks. And the ending at the diner has dialogue that is exactly what those characters would say. Exactly. Very funny.
6.4 Metacritic
8.3 IMDB
*** Berardinelli
PINEAPPLE EXPRESS
Tags:
6.4
,
Comedy
,
Crime
,
David Gordon Green
,
James Franco
,
Judd Apatow
,
Seth Rogen
,
Thriller