Posted by
MichaelVox
in
1958
,
DVD
,
Netflix
,
Solo Filmschool
1958
Netflix DVD
USA
English
129 Minutes — May 28, 1958
Crime / Mystery / Romance / Thriller
Alfred Hitchcock [The 39 Steps; The Lady Vanishes; Rebecca; Notorious; Rear Window; To Catch A Thief; North By Northwest; Psycho; The Birds; Frenzy]
#2 They Shoot Pictures Don't They Top 1000 Films Of All Time
A detective with a fear of heights is drawn into a complex plot in which a girl he loves apparently falls to her death. Then he meets her double.
"Double identity thriller which has many sequences in Hitchcock's best style. A film as unsettling as the phobia it deals with, keeping its audience dizzy and off balance throughout." — **** — Halliwell's.
"Solo Filmschool" movies are those on the big list of the 1000 best films of all time, which the crew over at TSPDT keeps track of and updates from time to time. The current version is from January 2010. My plan is to work my way down the list, watching all of them on DVD (if available), regardless of how slow-moving, or out of date they might appear at first. If a highly-regarded and serious film class is not available where you live, you could do a lot worse than using this list as a jumping off point.
James Stewart…John Scottie Ferguson
Kim Novack…Madeleine Elster
Barbara Bel Geddes…Midge Wood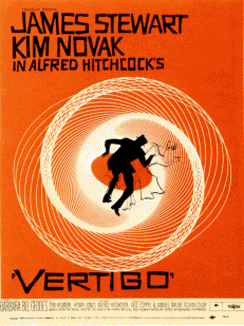 The Top 10 films of all time (based on that holy list I love) goes: Kane, this film, Rules Of The Game, 2001, 8 1/2, Godfather, Searchers, Samurai, Singing In The Rain, Potemkin.
One of these things is not like the other. And that thing is VERTIGO. There is no way that VERTIGO is the second best film ever made. No way.
Stewart is his usual charming, natural self. Novack is wooden at best and terrible at worst. Bel Geddes is entirely charming as the BFF of Scottie who has real feelings for him.
Positives:
–Hitchcock took the most beautiful city in North America and made it look even more beautiful somehow. It makes me want to drive up to The City to find Scottie's apartment right now.
–The give and take between Scottie and Midge is pretty great.
–The sexual obsession of Stewart is pretty strong for a film made in 1958. He essentially can't get turned on unless his date is made into another woman for him.
–Novack is pretty hot, especially in either a white coat or a black dress.
–Colors and angles are all superb, as you'd expect from Hitchcock (who apparently never looked through the camera during filmmaking).
Negatives:
–They fell in love too easily.
–How did Scottie get off the ledge in the first scene?
–Way too much following of people.
–Stewart: 50 years old; Novack: 25 years old. Um, of course he's attracted to her.
Scottie is recuperating from his brush with death after chasing a criminal over the rooftops of San Francisco. An old college friend (though clearly living in England) asks him to follow his wife who is apparently under the spell of or possessed by a woman who died long ago. Scottie follows her and she's gorgeous and she's troubled and she jumps into San Francisco Bay and he had to take her wet clothes off and put her in his bed, so naturally he believes he's in love with her. And we are asked to believe it as well. Her possession and sadness cause her to do herself harm and he spends half an hour seeing her in every other blonde in San Francisco.
And he doesn't realize that an attractive, artistic, intelligent woman is his for the asking. Plus, she'll fix him dinner and pour him bourbon.
Fabulous San Francisco locations. Great music.
I mean, it doesn't suck. It's pretty good and it was probably a big deal when it came out. But why all the praise?
I was surprisingly disappointed.
8.5 IMDB (Number 45 All Time)
VERTIGO
Tags:
8.5
,
Alfred Hitchcock
,
Barbara Bel Geddes
,
Crime
,
James Stewart
,
Kim Novack
,
Mystery
,
Romance
,
Thriller
,
Top 1000